There is a new outright leader in the race for the top TMC award.
Lawson Sun, of Climber Property in Auckland, has continued his dramatic rise and is now on eight Master Class Top 20 Leaderboards with a sensational 97% average across all modules.
Lawson is currently number one on five Top 20 Leaderboards (Privacy, RTA Amendments Part 1, RTA Amendments Part 3, RTA Crimes & Meth Contamination) and is now leading the race to win the inaugural Master Class property management agent of the year at the TMC Conference on October 5.
Lawson is just ahead of Melinda Malcolm of Nice Place Property Management, who features on eight Top 20 Leaderboards, but averages slightly less with a 95% average across all modules.
Either Lawson or Melinda could jump ahead if they pass the new Healthy Homes Standards Amendments 2022 Master Class module and take their place on the Top 20 Leaderboard.
Currently, Kelly Ke of Climber Property is on top of this Leaderboard with a 90% score.
Yanling He has underlined Climber Property's dominance on the Top 20 Leaderboards by emerging as the new number one on the Pool Safety Leaderboard.
Another Climber, Grace Hu, still leads the Healthy Homes Top 20 Leaderboard and Sashja Dyer from Waikato Real Estate remains on top of the RTA Amendments Part 2 Leaderboard.
The competition is far from over though.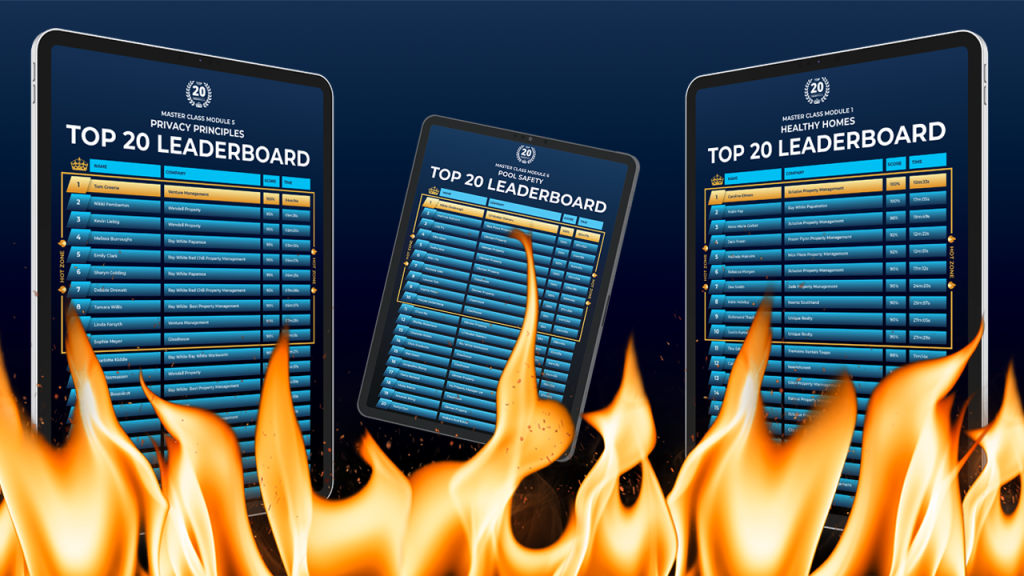 The Master Class Property Management Agent of the Year award is open to all employees who work for a property management company across New Zealand.
The rules are simple! The more Master Class Top 20 Leaderboards you land on, the better your chances are of winning this award.
There are now 10 Master Class modules live in the TPS Portal and those in the Top 10 🔥 Hot Zone 🔥 for each module on August 31st will also be recognised at the Gala Ball.