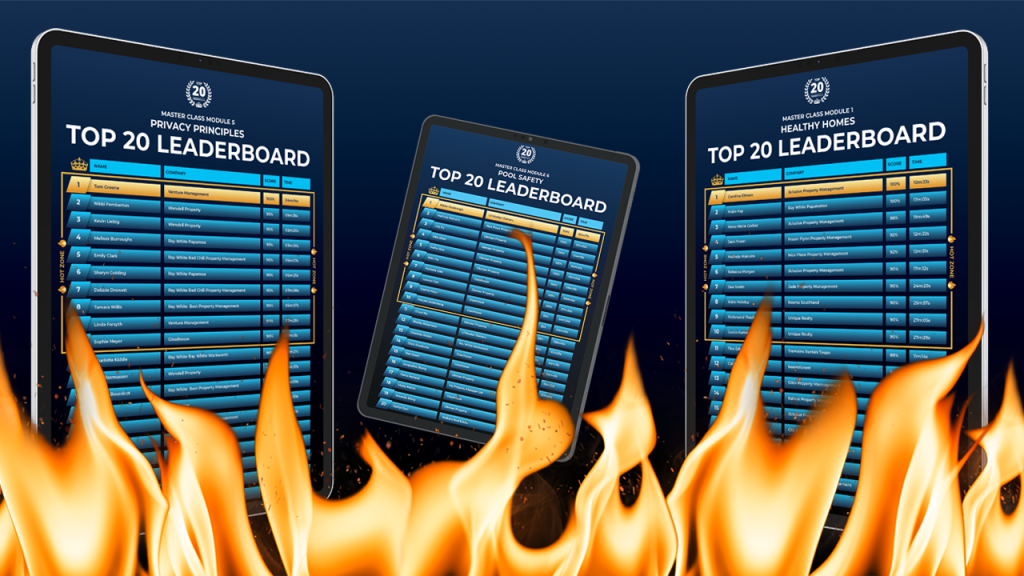 With the September 30 deadline fast approaching, several contenders have emerged in the race to see who will be named the 2023 Master Class Property Management Agent of the Year.
Vicki Martin, from Glasshouse in Hamilton, is still top of the props, but her lead is far from insurmountable ahead of the TMC Conference on November 14,
Recent developments have seen Vicki ascend to the new Smoke Alarms Top 20 Master Class Leaderboard this week, adding to her impressive tally of accomplishments.
Her name now graces nine Leaderboards in total. However, it's worth noting that Vicki has reached the pinnacle by successfully completing all ten of the 2023 Modules, leaving her unable to advance further.
In a close pursuit, Leeanne Utiger-Footer of Utiger Properties has firmly established herself on seven Leaderboards, closely followed by Justine Vavsour of Inspire Real Estate with an impressive six Leaderboard placements.
Notably, Jane Adams of Proppy Wanaka and Rachel Stipkovits of Homely Property Management each occupy five Leaderboards, rounding out the top five contenders.
CLICK HERE TO SEE MASTER CLASS TOP 20 LEADERBOARDS
Following last year's victory by Nikita Coubrough from LJ Hooker in Oamaru, who secured a place on all 12 of the 2022 Leaderboards, the competition for the 2023 title is expected to intensify.
As a special offer this year, we are providing substantial discounts on Master Class tests for all #TMC23 Ticketholders. By purchasing a ticket, you will save over $400 on all Master Class tests, with a single module costing only $10 to complete.
All ten 2023 Master Class modules are now available in the TPS Portal, all of which are part of this year's awards. Do you have what it takes to surpass the current leaders and claim your award at the TMC Conference?
The Master Class Property Management Agent of the Year award is open to property managers, letting agents, administrators, business owners, and business development managers across New Zealand.
The rules are simple: the more Master Class Top 20 Leaderboards you land on, the greater your chances of winning this prestigious award.
Those who secure a spot within the Top 10 🔥 Hot Zone 🔥 for each module by September 30 will also be recognized at the Gala Ball.
So get involved and educate your teams on some of the most topical subjects in property management.